Arlington Manor Part 1
Classroom Block Part 2
Mansell House, Sixth Form Campus Part 3
Science Block, Howard House Part 4
Art Block, Arlington Arts Centre Part 5

These photos taken by webmaster during tour of school at 60th Anniversary Reunion, 01 July 2006.

Click on thumbnail for big photos.



East Gate 272 Kb
Facing West towards Arlington Manor
Roy Millis and Steve Logan by School Sign.



Arlington Manor Trees 244 Kb
Tennis courts to the right
Arlington Manor behind trees.
Photo: Neil Alderman



Sign Post 96 Kb
In the old days you just got lost.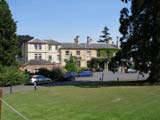 Arlington Manor Front view 208 Kb
Bought for £21,400 in 22/09/1947
Moved in 29 September 1949.
Photo: Neil Alderman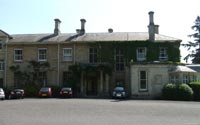 Arlington Manor Front view 190 Kb
Accomodation for girls,
Wing for boys year 8,
Offices and geography rooms.



Arlington Manor Plates 176 Kb
Opened by Princess Margaret 19 July 1950
Awards surround the offical plate.


Mary Hare Portrait 125 Kb
Painted by deaf artist Mr. A.R. Thomson
Unveiled 11 June 1949.
Photo: Neil Alderman


Mary Hare's 1883 Certificate 144 Kb
Society for Training Teachers of the Deaf.



Mary Hare's 1885 Certificate 152 Kb
College of Teachers of the Deaf and Dumb.



Meeting Room 140 Kb
Originally the Manor Dining Room.
Marvellous oak panels.



Mr. Mundin portrait 92 Kb
First school Principal, from 01 January 1946
Until his accidental death 06 April 1950.



Mr. Askew portrait 105 Kb
Second school Principal from 09 June 1950
Until his retirement December 1973.



Painting of Mr. Pearce 179 Kb
Third school Principal from September 1973
Until his retirement 1987.
Photo: Neil Alderman



Thomas Arnold dormitory 105 Kb
Modern 3 beds dorm, with posters and own beddings.
In old days 8 beds to one dorm
sheets and blankets were supplied.



Manor House notice board 109 Kb
There are school rules as always.



Verandah 1 265 Kb
Normally common room facilities...
Photo: Neil Alderman



Verandah 2 360 Kb
...but during the 60th Anniversary Reunion
Buffet lunch was served.



Buffet in Verandah 160 Kb
Buffet Lunch served to old pupils
At the 60th Anniversary Reunion.
Photo: Neil Alderman



Marquis on Croquet Lawn 257 Kb
On this flat lawn was pitched a marquis
For old pupils (alumni) to eat their buffet.



Mr. Peter Keen (Standing, middle) 124 Kb
Talking to Neil Dunlop (standing, left).
Photo: Neil Alderman



Group of Old Pupils 200 Kb
+names 203 Kb
Photo: Neil Alderman



Summerhouse 286 Kb



Principal House 148 Kb
In distance across the croquet lawn.



Ann McLellan memorial plaque 115 Kb
She died during an accident while cycling back to school
11 March 1956.



James Bainsbridge memorial plaque 145 Kb
He died 18 March 1997.



School Buildings 254 Kb
Tennis Viewing Area in foreground.
Library, swimming pool, Mansell House further back.



Fish Pond 332 Kb
West view towards Arlington Manor.



Neil Alderman 232 Kb
At the Fishpond.
Photo: Neil Alderman



Fish Pond 333 Kb
East view showing leylandii hedges and topiary.



Fish Pond and Field 254 Kb
View taken from upstairs dorm.
Marvellous view of fields beyond Fish Pond.
Photo: Neil Alderman



The Tour is continued in these pages:--

Part 1 Arlington Manor
Part 2 Classroom Block
Part 3 Mansell House, Wroughton Sixth Form Campus
Part 4 Science Block, Howard House, Blount Hall
Part 5 Art Block, Arlington Arts Centre
Photos © Kreb Dragonrider, Neil Alderman.
You may download these photos for personal viewing
but you may not publish them elsewhere without permission.
Website design © 2006 Kreb Dragonrider