Gallery of informal groups of pupils at Mary Hare Grammar School, taken by the pupils or alumni themselves and contributed to the website.

Click on thumbnail for big photos.

The Mary Hare scout troop in the 1950s frequently camped in the school grounds doing cookery competitions, pioneering and the occasional tree felling in the woods.


1950s Scouts logging
+names
Photo: Brian Taylor



1950s Scouts logging
+names
Photo: Brian Taylor


1950s Peter Benwell cooking
Photo: Brian Taylor



1960s David Brown
Photo: Brian Taylor



1960s Ken Briggs
Photo: Brian Taylor



1960s Peter Benwell
Photo: Brian Taylor



1960s Pig Club
Photo: Brian Taylor



1959 Life Saving Class
+names
Photo: Brian Taylor



1960 Edward Evans dormitory
+names
Photo: Brian Taylor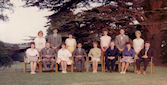 1962-63 Prefects
+names
Photo: Brian Taylor



1950s Pig Club Boys
+names
Photo: Rosalia Robb



1950s Pig Sty
Photo: Rosalia Robb



1950s Two Pigs
Photo: Rosalia Robb



1950s The Dell
Photo: Rosalia Robb



1950s View from the Dell
Photo: Rosalia Robb



1950 Needlework Class
+names
Photo: Jean Epps



1950 Beekeepers
Photo: Jean Epps



1950 Lacrosse
Photo: Jean Epps



1953 Senior Girls
+names
Photo: Jean Reid



1955 Hockey Team
+names
Photo: Jean Reid



1958 Hockey Team
+names
Photo: Jean Reid


Photos © Brian Taylor, Jean Epps, Jean Reid, Rosalia Robb
You may download these photos for personal viewing
but you may not publish them elsewhere without permission.

Website design © 2007 Kreb Dragonrider